Henny Penny
The play brings back the old tale of the "sky is falling." However, this time, we find out why the sky is falling, who or what is responsible for such event, and why is Henny Penny so hyper at all times.
With six unforgettable farm animal characters, the play not only offers a moral and a lesson, but also gives the audience an opportunity to interact and help on the judge's decision making at the end of the play.
With a few songs to sing, which are easy to learn and fun to perform, the play could be mistaken for a children's musical but instead it has been classified as a "fun play with music."
3 FEMALES, 3 MALES
SET: OPEN
RUNNING TIME: 1 HOUR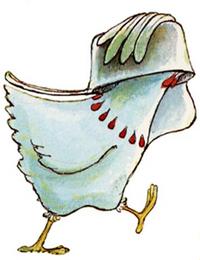 Henny Penny
3 MUJERES, 3 HOMBRES
ESCENARIO: ABIERTO
TIEMPO: 1 HORA
Esta obra trae de regreso la tan vieja historia de "la gallinita ciega." Sin embargo, esta vez, nos damos cuenta porque se cae el cielo, quien o que es lo responsable del hecho, y porque la gallinita es tan alocada.
Con seis animales de una granja como personajes inolvidables, la obra no solo nos ofrece una moral y un mensaje sino también le da al público la oportunidad de participar y ayudar al juez en la decisión que tiene que tomar al final de la obra.
Con algunas canciones, las cuales son fáciles de aprender y divertidas de interpretar, la obra puede ser vista erróneamente como un musical, sin embargo se le ha clasificado como una "obra divertida con música."