That's Life
It is an ensemble bittersweet comedy in two acts.
The play follows the story of a young man who must trust his new partner. As their relationship develops, the ex-boyfriend, a cousin and other friends come into the story to add comedy, drama, tension and a little bit of suspense to everyone involved.
Told in narration by a drag queen and constantly interrupted by the actors who talk to the audience, this play exposes the hardships of relationships, trust, love, money, infidelity, the strength found in long lasting friendships and power of believing in one-self.
Lots of funny one-liners, some nudity, and a drag transformation make this play a unique ensemble piece.
2 Females, 7 Males
Set: None. Location indicated by small furniture pieces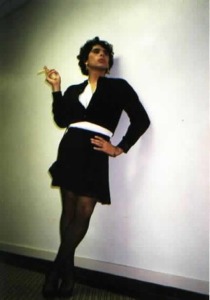 Así es la Vida
La obra es una comedia en dos actos con tema gay.
La obra sigue la historia de un hombre joven que tiene que confiar es su pareja. Mientras que su relación se desarrolla, el ex-novio, un primo, y otros amigos entran en la historia añadiendo drama, tensión, y un poco de suspenso en la vida de todos.
Narrada por una vestida y constantemente interrumpida por los actores que hablan directamente con el público, esta obra expone las dificultades en las relaciones, la confianza, el amor, el dinero, la infidelidad, la fuerza encontrada en las amistades y el poder que existe cuando uno cree en sí mismo.
Muchos chistes, algo de desnudos y la transformación de una vestida hacen de esta obra algo excepcional.
2 Mujeres, 7 Hombres
Escenario: Ninguno. Los diferentes lugares son indicados por pequeños muebles.