Mind Struggle
The play was written as an exploration on "writer's block." A single female student can't go beyond the first scene in her new play, and to make matters worse, her left and right brain constantly argue about who is the main character the student is writing. When things finally take off, the student decides to celebrate only to have her advances be ignored by her date, which only complicates her writing because she decides to scratch her main idea off the window and start anew, only keeping her favorite character alive, which is the only character her two side of the brain agree should be eliminated.
Funny, smart, intelligent and short enough to not make your brain hurt… too much.
2 FEMALES, 2 MALES
SET: A SMALL STUDIO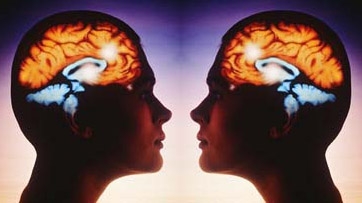 Juego Mental
2 MUJERES, 2 HOMBRES
ESCENARIO: UN PEQUEÑO ESTUDIO
La obra fue escrita como una exploración hacia lo que significa tener "bloqueo de escritor." Una estudiante soltera no puede escribir mas allá de la primera escena de su obra, y para empeorar las cosas, su lado izquierdo y derecho de su cerebro están en desacuerdo en cuanto a quien es el personaje principal que la estudiante escribe. Cuando las cosas parecen salir bien, la estudiante decide celebrar solo para que sus deseos sexuales sean rechazado por su invitado, lo que complica las cosas porque ahora ella decide olvidarse de su idea principal y comienza a escribir una nueva obra, donde solo su personaje favorito de la obra anterior queda intacto, que es como maldición, el único personaje que las dos parte de su cerebro insistían en eliminar.
Chistosa, inteligente y lo suficientemente corta para que no te duela el cerebro… por lo menos no mucho.