'Novela'
This play is a melodramatic comedy in two acts, where actors play double roles.
Somewhere in the USA, a theatre company is a week away from opening its latest show. However, technical problems abound, along with conflicts between the director and the playwright whom, like the leading actress and one of the actors, have a past. The playwright and the director and the leading actress and the actor must come face to face, clearing their misunderstandings, as well as forgiving each other for past infidelities and wrong doings.
While trying to close the pages on past doings, the company of actors tries to rehearse a play dealing with a family who struggles with the issues of infidelity, miscommunication, and coming out. At some point, some of the actors' problems start to mirror the issues presented within the play. By the end, for some of the actors their problems banished, giving them a happy ending while for others their realities have a different outcome.
3 Females, 4 Males
Set: The living room and kitchen of an elegant house and several other places.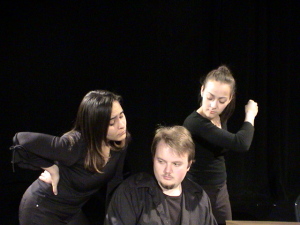 'Novela'
Este es un melodrama en dos actos, donde los actores juegan dobles papeles.
En alguna parte de los Estados Unidos, una compañía de Teatro esta a una semana de estrenar una nueva obra. Sin embargo, los problemas técnicos son muchos al igual que los conflictos entre el director y el escritor quienes, como la actriz principal y uno de los actores, tienen un pasado. El escritor y el director y la actriz y el actor tienen que enfrentarse cara a cara, aclarando así los malos entendidos y al mismo tiempo perdonándose los unos a los otros por las infidelidades y los maltratos vividos.
Mientras tratan de cerrar las páginas del pasado, la compañía de actores se esfuerza por ensayar una obra que trata de una familia que lucha con la infidelidad, la mala comunicación, y el salir del closet. En algún momento, los problemas de los actores se comienzan a parecer a los temas presentados dentro de la obra que producen. Al final, para algunos de los actores sus problemas se resuelven, ofreciendo un final feliz para unos, mientras que para otros, las realidades de sus vidas les dan un final diferente.
3 Mujeres, 4 Hombres
Escenario: La sala y cocina de una elegante casa y varios otros lugares