La Vida Loca
An apolitical in-your-face odyssey of a Mexican Immigrant Carlos Manuel's LA VIDA LOCA, is a monologue stuffed full with life. Carefully constructed to both heroize and expose the author/performer, his "crazy" life is revealed through a crazy quilt of carefully crafted memories, fantasies, dialogues, and excerpts from pop culture.
The highly kinetic performance brings the already lively account to a fully form life, charming and occasionally challenging the audience to question their assumptions about ethnic and sexual identity, through the crossing of physical and psychological borders.
A particularly sharp aspect of the script is the use of language lessons, given by Carlos to the audience, and references to the journey his family made from Mexico to the States. This linguistic play grounds the story and its metaphors, and keeps the piece continually moving forward.
LA VIDA LOCA is an important, and immensely enjoyable, travelogue through the life of an intelligent and aware young man, whose multiple identities and loyalties are brought to us through constantly engaging humor and pathos.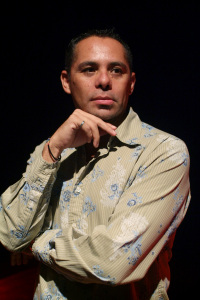 La Vida Loca
Una odisea loca y en tu cara de un inmigrante mexicano
Este es un monólogo unipersonal lleno de vida. Construído con mucho cuidado para exponer y convertir al autor/actor en un héroe, su "vida loca" es revelada por medio de un rompecabezas ensamblado de recuerdos, fantasías, dialogo, y relatos venidos de la cultura pop.
La obra, llena de movimiento trae al escenario una historia llena de vida, chistosa y ocasionalmente retando al público, forzándolo a examinar las asunciones acerca de le étnico, la identidad sexual, cruzando las barreras de lo físico y lo psicológico.
Algo muy inteligente del libreto es el uso de clases de lenguaje, que Carlos imparte al público, y las referencias al viaje que su familia y él hicieron desde México hasta los Estados Unidos. Esta obra lingüística sienta cabeza en la historia y sus metáforas, manteniendo cada historia en constante movimiento hacia delante.
LA VIDA LOCA es una obra unipersonal importante e inmensamente divertida a través de la vida de un joven inteligente y alerta que con sus múltiples identidades y lealtades son traídas a nosotros a través de un constante humor que nos enlaza a un nivel mas alto.